Merry Christmas to you and your family! I hope you had a wonderful day, celebrating Jesus' birthday!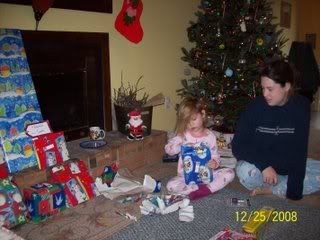 We had a nice quiet day at home, just the three of us.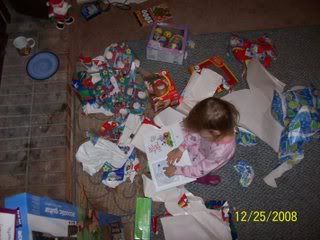 Hannah had a blast opening all her gifts.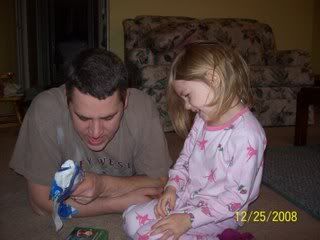 She couldn't decide what to play with next!
She also asked me at least a dozen times: "it's Christmastime, why isnt the baby here? When is Baby coming? Soon?" Try explaining a "late" baby to a three-year-old!
Later that night, she asked "Will Baby be here in the morning?"
I told her that I don't know, we just have to wait and see.
Mike did an amazing job of cooking a turkey dinner (which he and Hannah thoroughly enjoyed eating!), as well as stuffing, gravy, mashed potatoes, crescent rolls, sweet potatoes, corn and green beans. I "helped" by staying out of his way, and making a fresh veggie salad (which didnt even get eaten!).
I didn't eat much; my stomach is really squished these days - but I did clean up the kitchen mess for him afterwards. We skipped baking a pie and just ate Christmas cookies for dessert instead... we still have dozens of them all around the house. And how did we get so many candy canes?
After that, we sat around and watched classic Christmas movies, like Frosty and Rudolph and A Christmas Carol. We were just really lazy.
At Hannah's bedtime, we read the story of Jesus' birth from Luke chapter 2. It is a longstanding tradition that I want to continue with my own little family.
Overall I am feeling pretty good, just tired and not sleeping well. Trying to go for long walks and get plenty of exercise, not just sit around on the couch. It is difficult for me to be patient and wait for this baby to come out, but I really am trying!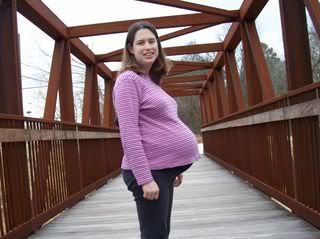 Can this belly get any bigger? 40 weeks pregnant and counting...
Christmas Eve night. We were so tired! We walked at the park for 2 hours that day!