First thing on the agenda: We spent a weekend in Pittsburgh, with our favorite college friends, where Mike and I first met. It was bizzare, like a walk down memory lane - except all the buildings have changed! But it was really great to hang out with old friends - some of them we hadnt seen in four or five years!!!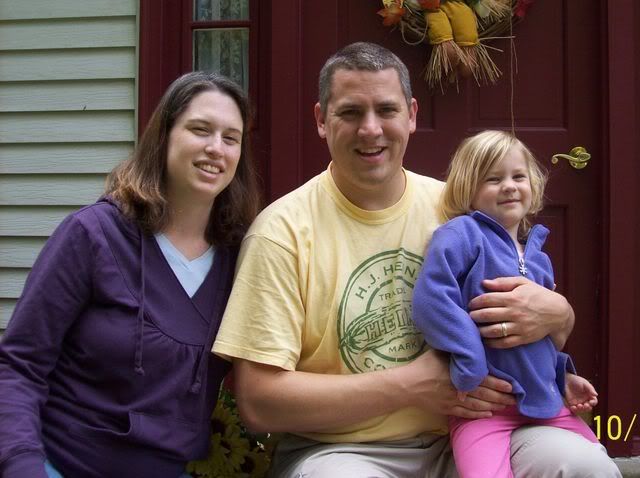 Our happy little family.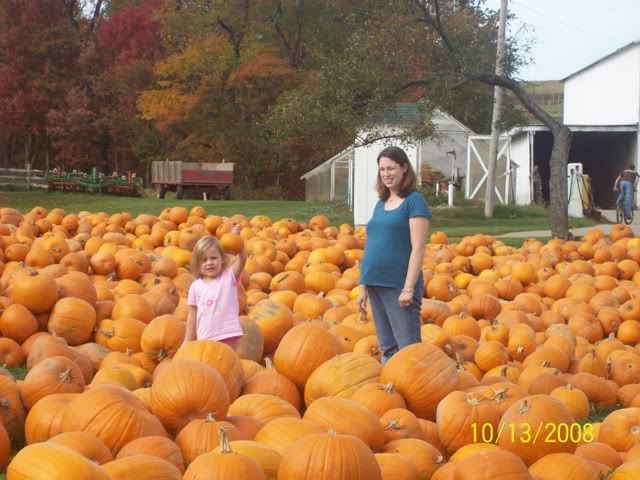 We went to a pumpkin farm with Mike's family.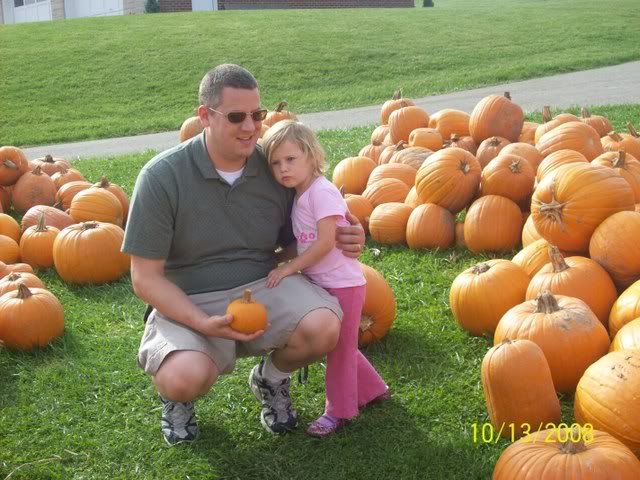 Hannah was kind of grumpy, can you tell?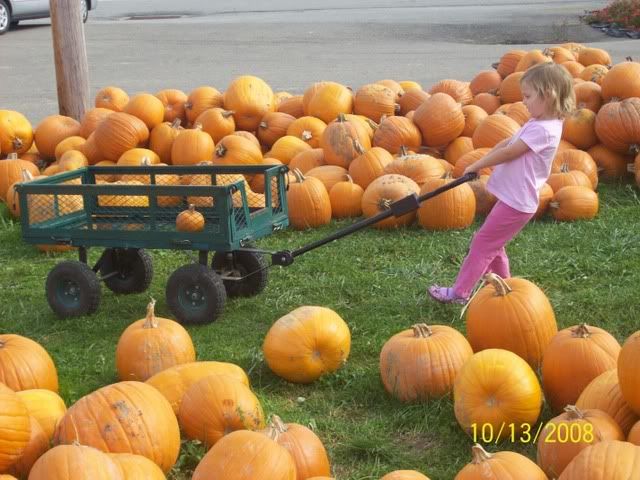 Hannah's favorite part was pulling the cart. She picked pumpkins just so that she could pull them around in the wagon.
She was super-spoiled by her grandparents, and got plenty of attention from aunts and uncles and friends, too. We ate so much candy at Nana and PapPap's house... I felt like I gained ten pounds last week!
We also got to spend a day at Hershey Park!
Reese's pieces are my new favorite candy.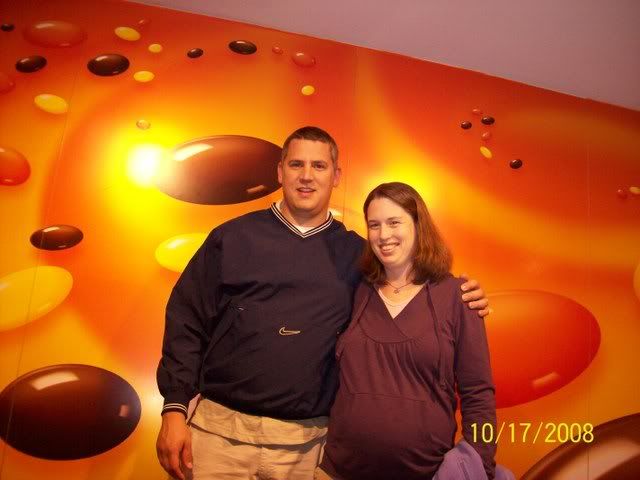 Believe it or not, Hannah took this picture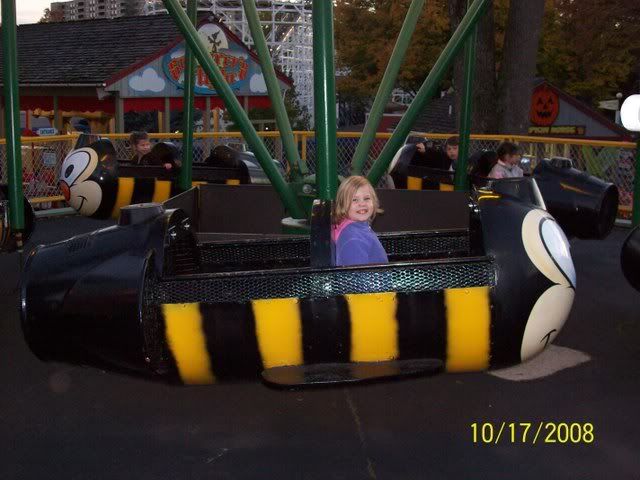 She had a great time on the kiddie rides.
The park wasn't very busy, so she got to ride everything 2 or 3 times in a row!
And last weekend, we stayed with my parents in Maryland.
Since my dad's heart attack, he has been doing AMAZINGLY well.
Last month, in September, he lost 20 pounds! He looks great, and feels fine, too.
So... My crazy father and insane husband decided to go for one more swim before they closed up the pool. I didnt eve nwant to out my hands in - the waterfelt like ice!
They let Hannah "push" them in: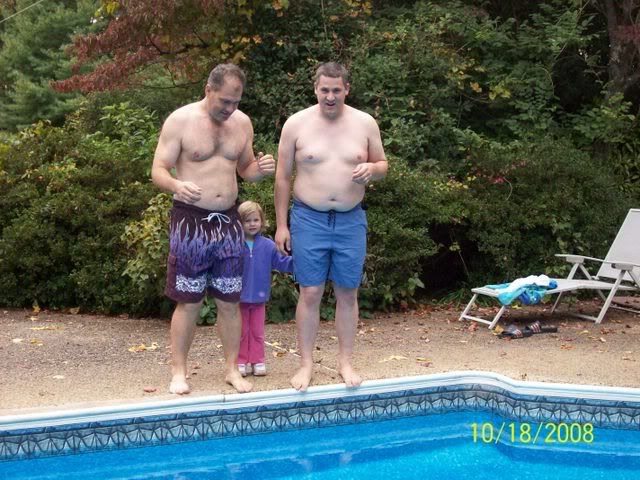 It was SO COLD!!!
My mother kept feeling my stomach: "Is that a hand or a foot? Or maybe the butt?"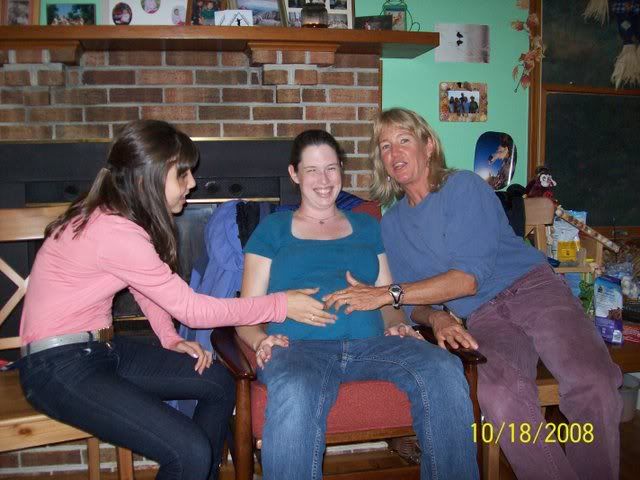 Ummm, How in the world should I know?! There's a baby in there! That's all you really need to know!
Everyone keeps telling me that I'm having a boy this time. All of my relatives think so. I'm trying to ignore them and keep an open mind, because really, we don't know. It will be a nice Christmas surprise.
TWO MORE MONTHS until our Miracle Baby is due! :)
That means 4 1/2 more weeks until full-term!
I've been having a lot of scary dreams lately. For the past seven months, I have dreamed about going into labor early, and delivering a preemie. First I dreamed that the baby would be born at 28 or 29 weeks, now, in my dreams, it's 32 weeks - which, in reality, is coming up really fast. As long as we make it to 36 weeks without complications, I know it will be fine... I'm just nervous. My dreams keep getting worse though. It's harder for me to sleep at night. Combine braxton-hicks contractions, abdominal cramps, and charlie horse, and you get = not much sleep.
Oh well. Pregnancy doesn't last forever. Right?!