My two favorite people!!!
For comparison: 14 weeks pregnant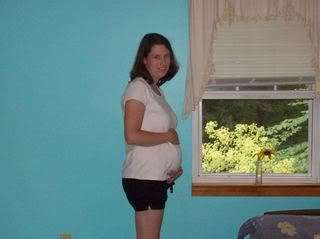 20 weeks pregnant.
25 weeks pregnant:
Can you tell that Hannah took this picture?
She also shoved the "New Baby" book into my hands!
I'm not kidding!
Mike and I had a fight this afternoon about diapers. Yes, diapers. It might sound really stupid. But I was thinking of using cloth diapers (even for Hannah, at nighttime, not just for New Baby!), and Mike said "absolutely not." Didnt even want to hear my opinion. Just plain "No." I thought it would save money in the long run, he was worried about has been sweet, extra laundry (which he never does!) and electricity costs ("it would ruin our dryer! It costs too much.").
It felt like he was telling me "Your ideas are stupid and worthless." Of course, he didnt say anything close to that, but that's what it felt like.
We agreed to disagree for now... but it hurt me, the way he just dismissed it like that.
I've been incredibly tired this week. Hannah has been sweet, but she is still quite a demanding little girl. And sometimes she just makes things more difficult than they need to be. Example: Yesterday we went for a walk, and Hannah had to stop every 5-10 steps to adjust her baby doll's blanket, or clothes, buckle and unbuckle the baby, re-velcro her shoe, fix her sock, collect rocks, pick a flower, ect, ect, ect! It drove me CRAZY! Sometimes it's really difficult for me not to lose my temper and get frustrated with her. Even if she is a great kid.